An assessment is a key to reveal how God has designed you for His Kingdom to live the Abundant Life. We strive to use the best assessment tools in the world from many of our strategic partners with decades of use. Assessments are a means to support insight coaching and give you added freedom to listen to God and live out all that he has for you. We offer individual, 360°, Team and Organizational Assessment Tools. 360° Assessments are $997.00 each.
Denison Leadership Development Survey 360
The DLDS measures an individual's leadership skills and practices as they relate to these key traits. Each individual's scores are benchmarked against a database of leaders from across the globe. The survey provides participants with 360 degree feedback from a number of perspectives including from their supervisor, peers and direct reports. This provides the leader with a comprehensive view of their leadership strengths and potential areas for improvement. The DLDS leverages the Denison Model of High Performance, a model that has been linked to key performance metrics such as profitability, quality, innovation, market share, sales growth, and employee satisfaction.

Emotional Intelligence 360
The EQ-i 2.0 measure a set of emotional and social skills that influence the way we:
perceive and express ourselves,
develop and maintain social relationships,
cope with challenges, and
use emotional information in an effective and meaningful way.
The EQ-i 2.0 model of emotional intelligence is comprised of fifteen factors across five categories of functioning which are:
Self-Perception
Self-Expression
Interpersonal
Decision-Making
Stress Management
These skills, which form the building blocks of abilities such as communication, resilience, and time management, can be mapped theoretically and empirically to job competencies, productivity, academic performance, and other measures of success to help predict and improve functioning.
Abundant Life 360°
A customizable assessment triangulated with you, the Holy Spirit and strategically chosen believers of Jesus Christ will provide key insights into your strengths and areas of development.  With the clarity of the feedback collected, and confirmed through multiple sources, you are provided insight, honesty and solutions to a path of the Abundant Life Jesus offers in the Bible (John 10:10).  The assessment involves an interview with yourself and God along with six to nine believers who know you well and are selected and interviewed on the same questions you and God discuss together.  A report is created capturing the themes, patterns and messages that emerge for the purpose of examining key areas to focus on.  The goal is to gain a fuller understanding and to practice living out the Abundant Life God has specifically for you.  Typically, insight coaching follows the completed report and behavioral goals are documented, measured and supported over time with challenging assignments for continued growth.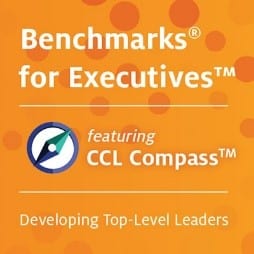 Benchmark For Executives
The challenges faced by executives at the top levels in an organization can differ a great deal from those at the middle management level. Benchmarks© for Executives™ is a 360-degree assessment designed to address the specific leadership issues of top-level executives. Unlike other assessments that contain normative data encompassing all users, Benchmarks© for Executives™ data are screened to ensure that only the very top-level leaders are included in the normative base. CCL Compass™ is included which allows leaders to transition immediately from reviewing insights to making positive changes in the areas most relevant using an online portal tracking system.  Other benefits include:
Providing top-level executives with feedback on specific, critical leadership skills
Assisting individuals to compare their results to other senior leaders
Starts the process of feedback-based individual development
Continues the development process with CCL Compass™by setting goals and creating actionable plans
Based on global research conducted with top-level executives
Exclusive normative data ensures that participants are compared only to other top-level executives
Available in 8 languages
Measures 16 competencies
Feedback report includes written verbatim comments section
Group Profiles available
Includes CCL Compass™, a digital tool that gathers all assessment data, interprets it, and recommends what to do next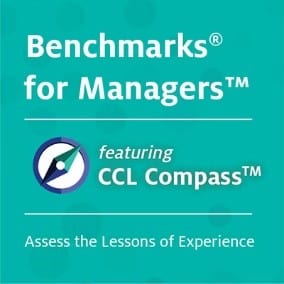 Benchmark For Managers
Benchmarks for Managers™ is a comprehensive 360-degree assessment for middle-to upper-level managers that measures 16 competencies critical for success, as well as 5 possible career derailers. This in-depth analysis of observable behaviors provides managers with a solid assessment of their leadership competencies and was first validated in the 1980's.
Assesses Lessons of Experience
Shows how others perceive your strengths and development needs
Starts the process of feedback-based individual development
Continues the development process with CCL Compass™ by setting goals and creating actionable plans
Based on research of how successful managers develop, and why they derail
Provides normative comparison of results with other successful managers
Available in 10 languages
Measures 16 competencies and 5 derailment factors
Feedback report includes written verbatim comments section
Option to choose one additional norm comparison — over 70 available, including country, function and organizational sector
Includes CCL Compass™, a digital tool that gathers all assessment data, interprets it, and recommends what to do next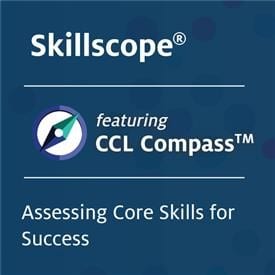 Skillscope
Ideal for organizations new to the 360-degree leadership skills assessment process, Skillscope® provides straightforward and practical feedback on job-related skills.
Results
Assesses job-related strengths and weaknesses
Starts the process of feedback-based individual development
Continues the development process with CCL Compass™ by setting goals and creating actionable plans based on the 360 leadership assessment results
360 Leadership Assessment Features 
Designed to capture managers' work as it really is
Provides ratings for importance, strengths, and development needed
Available in 11 languages
Measures 15 job-related skills
Includes a written comments section
Group profiles available
Short — takes 20–30 minutes to complete leadership skills assessment
Option for reports with or without feedback broken out by rater group
Highly visual feedback reports
Includes CCL Compass™, a digital tool that gathers all leadership skills assessment data, interprets it, and recommends what to do next
Easy to complete and simple to interpret, Skillscope can be used with supervisors and managers as a leadership assessment test, as well as individual contributors. When paired with CCL Compass™ — a cutting-edge online tool that brings data to life — leadership skills assessment feedback from a 98-item checklist is instantly transformed into clear and relevant action plans that build on strengths while addressing development needs.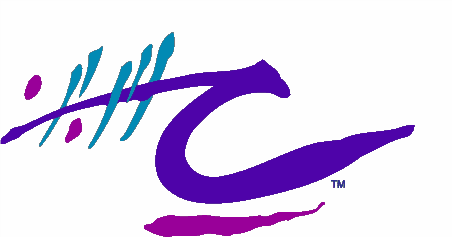 Campbell Leadership Index
The Campbell Leadership Index (CLI) is a robust 360° leadership feedback tool that helps measure personal characteristics directly related to the nature and demands of leadership, including risk management. Developed by renowned psychologist Dr. David Campbell at the Center for Creative Leadership, the CLI can be used for individual development and coaching or as part of organization-wide efforts to assess and benchmark collective leadership talent.
Specifically, the CLI can help to:
Pinpoint areas for leadership development
Assess executive "fit" in high performance cultures
Provide comprehensive needs analysis across management teams
Help to identify leadership potential for succession planning purposes
Provide multisource feedback on leadership skills and ethical behavior
Identify gaps in perception between leaders and observers on 22 leadership factors Dimensions of measurement include: Leadership (Ambitious, Daring, Dynamic, Enterprising, Experienced, Farsighted, Original, and Persuasive), Energy, Affability (Affectionate, Considerate, Empowering, Entertaining, and Friendly), Dependability (Credible, Organized, Productive, and Thrifty) and Resilience (Calm, Flexible, Optimistic, and Trusting).

Emerging Leaders Profile
The Emerging Leaders Profile is an outgrowth of an extensive search for an appropriate assessment tool for new or high potential leaders – those just entering the ranks of supervision and management and without the broad experience of challenging management responsibilities.  As result, working with and through young leaders themselves, research led to the development of twelve leadership skills and traits that influence a new leader's effectiveness and establishes a foundation for personal growth. 
Gathers perspectives from up to 17 raters
Provides a benchmark whereby a manager may see at a glance how he/she is perceived by others versus self‐perception
Adds two dimensions of feedback not normally found in 360‐degree instruments: "Do More" or "Do Less" of each rated behavior, and has the capacity for 5 customizable questions.

Conflict Dynamic Profile
The Conflict Dynamics Profile (CDP), an assessment instrument measuring conflict behavior, is an excellent resource to increase self-awareness and improve conflict management skills. The CDP is unlike any other assessment tool in that it focuses specifically on conflict behaviors, rather than styles. It helps individuals and teams understand how they respond to conflict, what triggers can escalate conflict, and how to manage conflict more effectively.
The CDP-360 enables you to compare your own perceptions about how you behave during conflict with those of your colleagues. It provides a complete "conflict profile" with feedback from bosses, peers, and direct reports. The CDP-360 is particularly helpful for leaders, managers, and high-potential employees for whom conflict can be particularly challenging.
In addition to feedback on 15 scales, both versions of the CDP have a unique "hot buttons" section which identifies the emotional triggers that negatively impact relationships.
What follows are sample reports of the assessments. If you would like to take an assessment or
would like to discuss which assessment(s) is the best fit for you, let's have a conversation!