Resources for People Who Want to Live Abundantly
Free E-Book!
Get a free copy of The 22 Most Important Things when you become a member!
JANUARY 1
I will live in the present.
Each New Year brings with it resolutions to achieve something in the future. Some of these decisions include rectifying failures from the past. The truth is, neither the past nor the future exists. We only have the present, and increasing demands coupled with the stresses of life often obscure it. Staying focused on "now" forces attention onto the situations and people who truly matter. Not only does living in the present have a dramatic effect on our emotional well-being, but the detrimental effects of stress on our body are lessened as well. It also makes us more effective.
Slowing down and realizing we can only influence what's happening right now allows us to focus on life one opportunity at a time. It eliminates distractions that can impede our ability to be effective and get things done.
Getting sidetracked usually means we are looking too far ahead or too far behind. As our attention narrows, our awareness merges with the action we are performing, and we gain a sense of personal power over it, so that anything we do in the moment will seem almost effortless.
Center yourself in the moment right now: take a deep, slow breath. Count to five and then exhale slowly. Accept any emotions, situations, and thoughts without any need to reconcile them. Stop confusing situations with useless conjecture and self-defeating worry. Overthinking and self-evaluation are two of our greatest impediments. Keep life simple by focusing thoughts and actions only on what's significant.
Approach familiar surroundings with what some call a "beginner's mind"—find a new sight, sound, or smell with no need to judge any of it. Slow down to savor the moment. Appreciate life as it is instead of looking to tomorrow or dwelling on the past, and peace as well as increased efficiency will follow.
Life centers all around now, and now has always been about our life. If we're not living in the present, we're relinquishing our life. Now is our most precious possession—don't waste it on anything else.
"Life is a sequence of moments all called now." ~ weheartit.com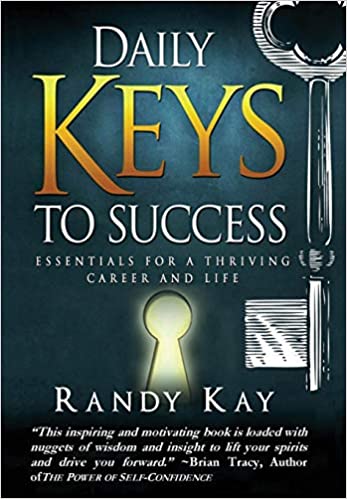 Daily Keys to Success
Daily Keys to Success is an inexhaustible reservoir of insights and teachings that will challenge you to devote your attention to new ways of thriving – right now. It could be new skills, or it could be the first step toward an exciting adventure that follows your dreams, or it could be a unique learning experience, one that fills you with fresh awareness and excitement. Daily Keys to Success is arranged by calendar day for daily growth. It brings you a wealth of fresh, diverse, and captivating developmental material and insights. You'll find: – Topics of interest for any individual from professionals desiring to grow their career to people wanting to improve their life skills and overall satisfaction. – Inspiring, real-life stories and proven principles that illuminate important ideas and offer practical applications to make your life the best it can be. – Thought-provoking concepts and corresponding quotations from notable individuals in every sphere of life.